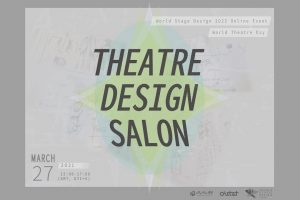 World Stage Design 2022 Online Event × World Theatre Day 
OISTAT is pleased to present "Theatre Design Salon" on 2021 World Theatre Day. Theatre Design Salon invites 3 World Stage Design winners to share their design process and experiences of attending WSD.
Theatre design is key to engaging audiences. Are you curious about how theatre designers transform a concept into reality? What are the challenges they face in design? How do they adapt creativity to overcoming challenges? Join us to explore what goes on inside theatre designers' brain.
Date: March 27, 2021 (Saturday)
Time: 15:00-17:00 (GMT, UTC+0); View Timetable
Agenda:
GMT, UCT+0
Agenda
15:00-15:20
WSD 2022 visions & how to submit works
15:20-15:40
Rodo Guadarrama (Mexico) |
Gold Medal / Performance Design /WSD 2017 Emerging Designer
15:40-16:00
Tao Chiang (Taiwan) |
Gold Medal /Sound Design /WSD 2017 Professional Designer
16:00-16:20
Agata Skwarczyńska (Poland) |
Gold Medal / Performance Design/ WSD 2017 Professional Designer
16:20-17:00
Panel Discussion and Q&A
Moderator: Ian Garrett (Canada) |
WSD 2022 Advisory Committee – WSD Exhibition Designer
Please fill out the registration form before March 21. (*詳しくは一般社団法人日本舞台美術家協会HP=oistat日本センター会員様)
The confirmation letter with meeting room link will be sent out by March 24.
If you have any questions, please email to events@oistat.org.
What is World Stage Design?
World Stage Design (WSD) is a quadrennial theatre design exhibition and competition for individual designers. WSD is comprised of 4 distinct components that are presented simultaneously:
International Design Exhibition and Competition
Scenofest
Theatre Architecture Competition (TAC)
Technical Invention Prize (TIP)